35th Annual Run for the Roses – October 17, 2021
Location: ISU Hansen Center, 2005 Mortensen Road, Ames, IA
Entry Fees:
By October 10, 2021:
$6: Kids Run
$25: Students
$25: AARC Members
$20: ROTC/Military
$30: All Others
October 11-16, 2021:
Day of Race:
$40: All Entries
$5: Breakfast Only
Race Day Schedule:
7:30-9:30AM: Race Day Registration/Packet Pick-up
9:00AM: 5K Race/Walk
9:30AM: Breakfast Begins & Kid's Fun Run
10:00AM: 10K Race
Awards & Prizes
Custom designed medals are awarded to the top 3 male and female finishers in five year age divisions from age 13 and under through age 90+ in the 5K and 10K runs

A custom designed medal and one dozen red roses are awarded to the overall

All entrants receive:

Long Sleeve T-Shirt
Red Rose
Omelet Breakfast
Door Prizes
Silent Auction
Registration Information
Don't forget to bring your old running shoes to donate to Soles 4 Souls. For more information, visit: soles4souls.org
2020 Run For The Roses Recap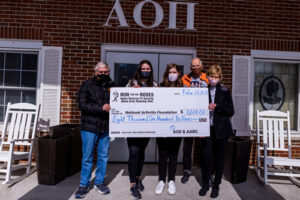 The 34th Annual Run For The Roses, inaugurated in 1987 as a collaboration of the Ames Area Running Club and Iowa State's Alpha Omicron Pi Sorority to raise funds for AOPI's philanthropy Arthritis Research Grants, raised $8,600 resulting from its 5K Run/Health Walk and 10K Run which was held "virtually" in October–and drew nearly 500 participants. Event organizers pictured, from the left: Ames Area Running Club's Ron Skrdla, AOPI's Sydney Wasteney and Amy Schraeder, AARC's Don Muff, and AOPI's Chapter/Philanthropy Adviser Eileen Muff.
Over $334,000 has been contributed to The National Arthritis Foundation since 1987. These grants fund research that will hopefully one day lead to a cure for arthritis. The Run For The Roses organizers wish to thank all who participated in the 34th year of this Ames Fall Tradition, as well as the sponsors whose support was invaluable. AOPI and AARC are looking forward to returning to our traditional event, the 35th Anniversary Run For The Roses, which will be held in early October 2021.
2019 Run For The Roses Recap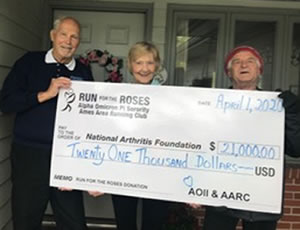 As a result of another successful Run For The Roses, Ames Area Running Club and Iowa State's Alpha Omicron Pi Sorority recently presented a check for $21,000 to the AOPI's Philanthropy, the National Arthritis Foundation.
The check presentation was done "virtually" with all AOPI members in attendance from their homes throughout Iowa and the United States.
Run For the Roses has raised a total of $326,000 for Arthritis Research in the past 33 years. Special thank you's go to Morgan Cocagne and Lydia Frey, AOPI Philanthropy co-chairs for all their efforts to continue making Run For The Roses "An Ames Fall Tradition".
Pictured, the AOPI Virtual Zoom Gang, Check presenters from Left Don Muff, Co-Director, Eileen Muff, AOPI Philanthropy Advisor, and Roman Lynch, Co-Director.